I have been using Milanote since its beta stage before 2017 and I've found myself using it even more since it became widely available.
The Next Web wrote that "Milanote is the Evernote for creatives." In order to visualise Milanote's interface, imagine a big, blank canvas where you pin your ideas, images, quotes, drawings, checklists — things that are called cards. The difference between other note-taking apps is its aim.
True, there are a few good note-taking apps to capture your notes. But the thing with these apps is that once your note is stored, it's sometimes lost in a plethora of tags and folders and it might take a while until you need to access it again. With Milanote you place your cards (i.e. notes) visually on a board, literally dragging and sticking them exactly where you want them to be. From then onwards, you can start working on them right away. Try connecting them to other cards or expanding your thoughts on them by adding images, URL links and lists. In a way, instead of just capturing and storing notes, you brainstorm and elaborate on them directly, thus making sure they will not end up forgotten under a pile of other notes.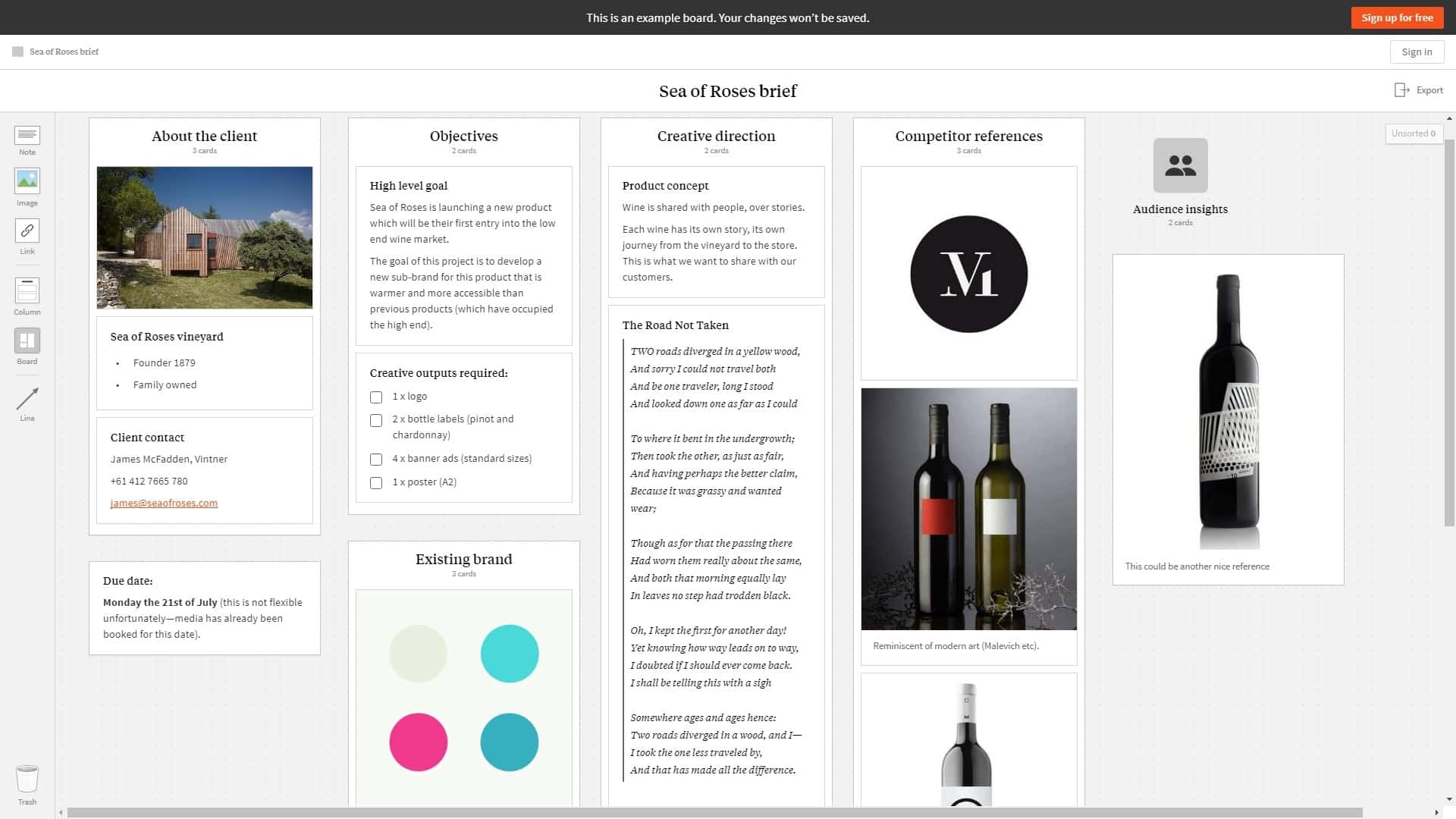 For the time being, you have the option to add notes, images, links, columns and boards. From these categories, perhaps columns and boards need some more explaining.
Essentially a column is a field where you can add formatted text, bullet lists, checklists and quotes. As for boards, think of them like a folder linking to a new board (a sub-board), or like a folder containing other files.
Lastly, there is also the option to draw lines and arrows. Needless to say, all the above options offer you some basic customisation tools. For example, you can choose different colours, icons or images, to distinguish between them.
How does that work in practice? Let's say that I'm working on a novel and I want to create a character map, showing all the different character relations. I would usually create a new board icon for each one of my characters and use arrows in different colours to show the relationship with one another. Then each time I'd click on a character, I'd be taken to the characters sub-board where I could include an image for my character, a list of his personality traits, other characters associated with him, etc.
Another example would be to create a storyboard to function as a chapter outline, something like Scrivener's cork board, where I'd map out each scene as a different note, complete with character profiles, descriptions and images, as well as a brief description. Then I could rearrange the scenes by dragging and dropping them on the main board.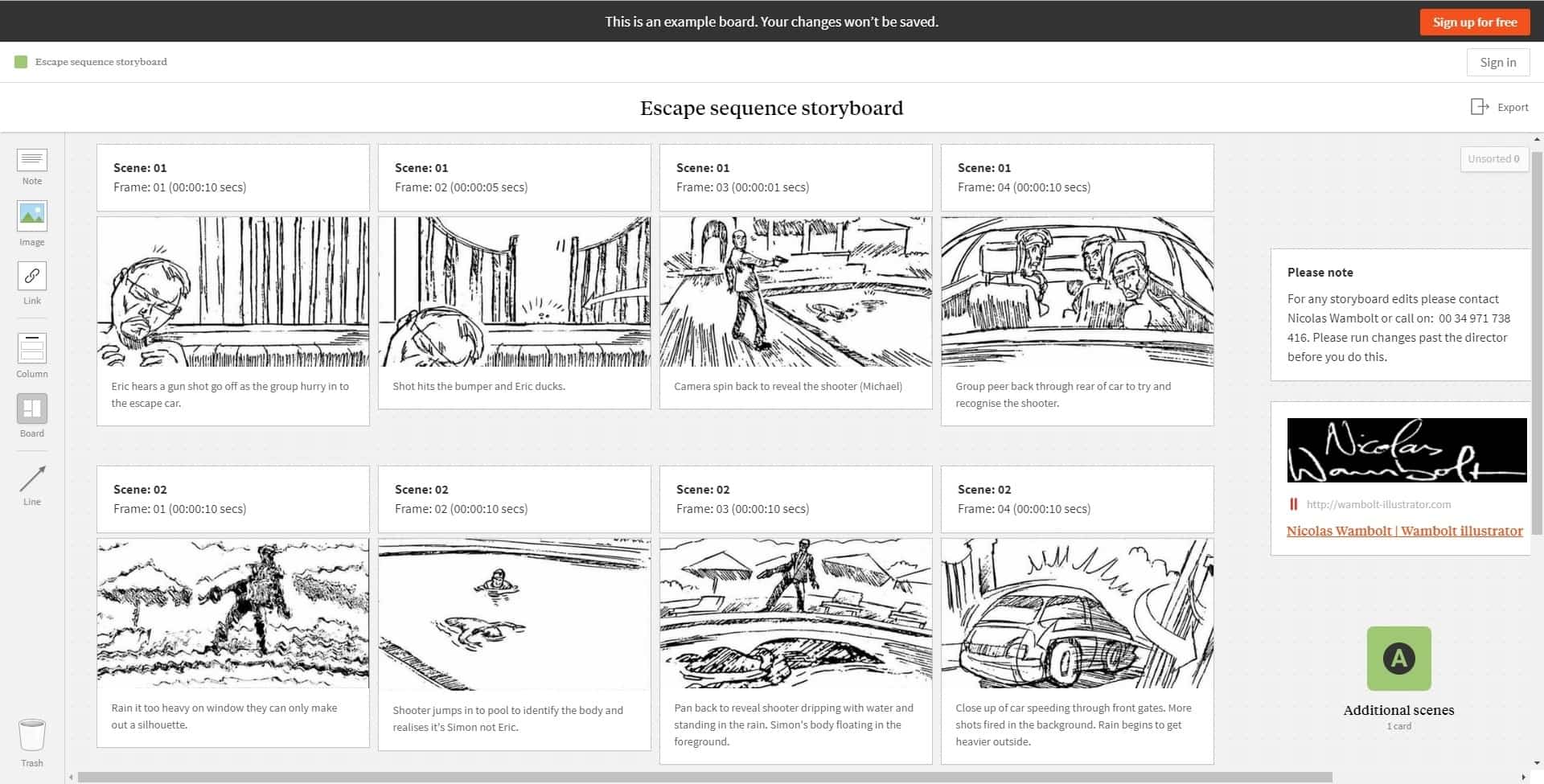 There are plenty of options for all kinds of visual creations. Its target group includes authors, architects, designers, artists, engineers and many other professionals and freelancers — to mention only a few of the people who could benefit from such a cleverly designed piece of software.
Milanote also offers some basic collaboration features. You can share your boards with friends, or invite someone to view or even edit your boards.
All in all, this is a first rate product but I'd have to mention a couple of things some of you might consider as limitations. First, for the time being, there are no apps for Android or iOS, but these are coming soon according to the website. After all, you can always open your browser and work using the web version on your android tablet or iPad. Second, the price might be a bit expensive for some: The free version allows you to use 100 cards, which is a generous amount for say, outlining a single project. But if you need to work on more projects then you might need more than that. For unlimited notes, you need a PRO account which costs $12.50 a month or $9.99 if billed annually. Compared to Evernote's pricing plan, which might not have the visual boards of Milanote but does have a ton of features, the price could seem a bit steep.
However, as it is, Milanote could become an essential tool for people in the creative professions. And while still in its infancy, it is a promising product with a great idea behind it and a professional outlook.