An online desktop
The concept behind Webjets is organising your thoughts using simple cards. Think of it as an alternative desktop that is accessible from your web browser. In this new desktop, you can insert YouTube videos, to-do lists (or any kind of lists), folders, bookmarks, tables, Wikipedia articles, even mind maps, and of course you can attach files.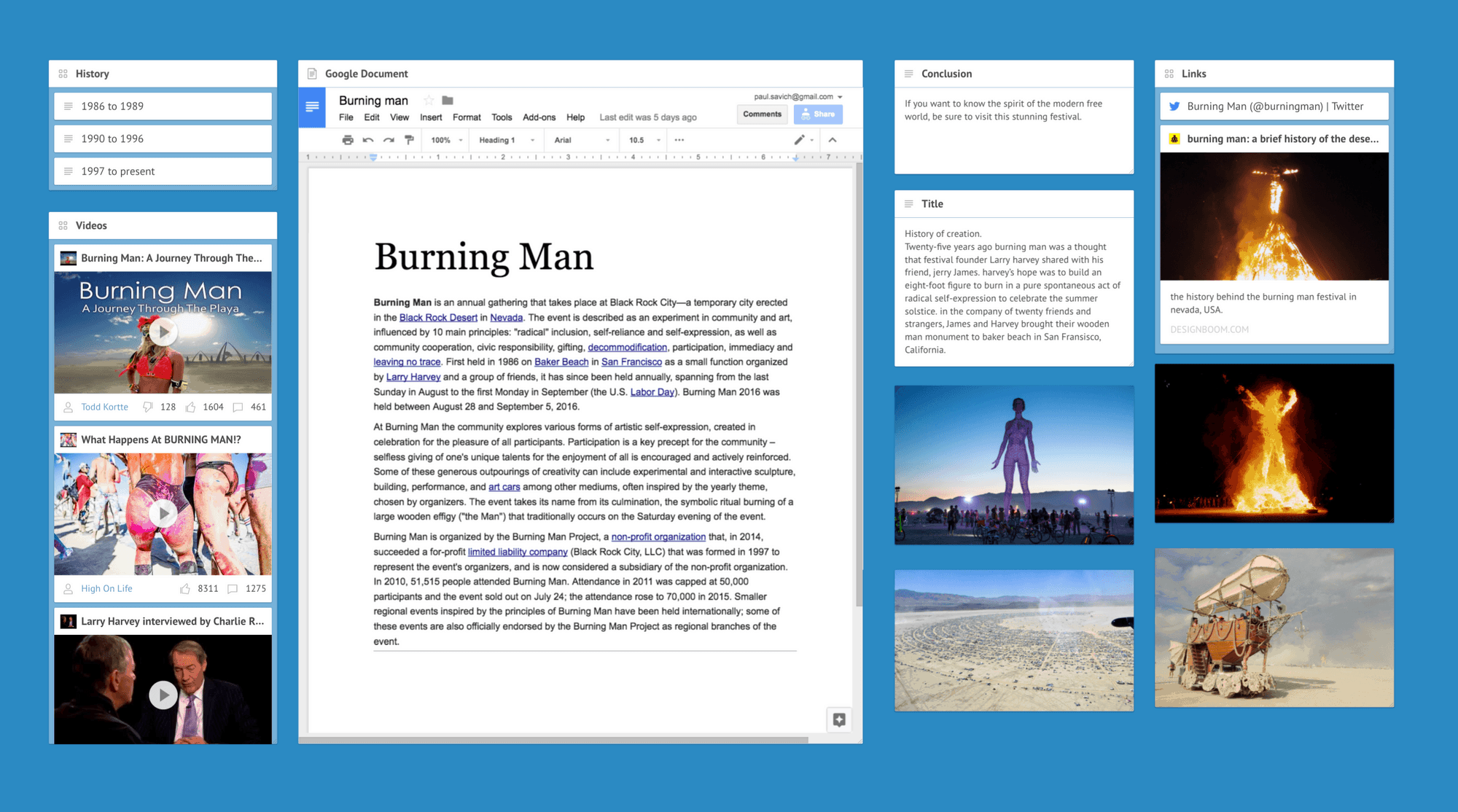 Now you will probably think that a desktop featuring all the above would be cluttered, but that is not the case. The magic of Webjets is that all features share the same mainstream card design, so they are visually pleasing and easy to locate. Not to mention that you can change the background to whatever suits you.
One of the killer features though is the fact that when you embed, say, a Google Doc or an Excel file on your Webjets desktop, the document stays open on it, enabling you to view and edit it on the spot!
Best of all? Webjets offers online collaboration.
A variety of uses
When is this useful? I'm a writer so just think of the possibilities of using such an app to create your storyboard and include your research on the same page. I can have my mind map showing different character relations, a chapter outline as a list which I can change anytime, inspirational YouTube videos and my background research neatly structured into folders.
This is also quite useful for my academic papers. Again, the research could go into folders, along with my bookmarks and research papers attached. Of course, the main benefit here would be the collaboration feature: colleagues could not only have a look but also edit and provide feedback to my papers.
Overall, I can envision the online collaboration feature being really useful among architects, engineers, graphic designers, students, bloggers, teachers, editors, researchers, covering any kind of creative and collaborative needs.
Fast, efficient, simple UI, free tier
As for it usability, the service is quite fast as it is, in fact I had no problems using it, with the user interface being clear and very easy to follow. There are two pricing tiers: free and premium, the free version limited to 200 notes per user (which should be enough for most people). Even though the app is still in its beta stage, it looks very promising. I could go as far as argue that a virtual online desktop like the one offered by Webjets is what has been missing in a market overcrowded with creative apps. A great idea and excellent work behind it – do give it a try.